the Ultimate Vegan Baking Course
Learn to Bake Vegan like a professional
All your baking dream skills
What's included in this course?
Each week you will receive recipes, educational content, live Q&As & practical videos.
in-depth expert video course
to help you transform the relationship with food and your body — and finally feel confident in your body.
methods & processes specific to vegan baking
Learn the skills, the science behind vegan baking
Yoga classes, workouts, breathwork, vegan 101, sleep - we have a whole lifestyle section for you to explore and enjoy too.
150+ Expert vegan baking Recipes & frameworks
including macarons, meringues, cheesecakes, brownies, sponge cakes, to name a few!!
with Instructors to educate you on vegan baking journey.
of like-minded people going the same path to support, motivate and inspire you.
See what our students have to say
I loved the recipe frameworks and Dave and Steve were great. I gained so much knowledge and I am now much more creative and confident in the kitchen and I would really recommend the course to anyone looking to learn about cooking.
Berta
I've lost weight, my energy levels have increased, I feel great and my thinking is much clearer. My kids are seeing me be a healthier dad too - I have just signed up for a triathlon, so they think I am a superhero! I really recommend this course!
Michael
The course has changed my life! I no longer feel bloated all the time and I have better energy. I loved cooking new dishes and discovering new ingredients. I would definitely recommend it to anyone who has a sensitive gut or anyone who just wants support to eat better and learn how to cook delicious meals.
Emma
Access the challenge anytime, from anywhere and on any device!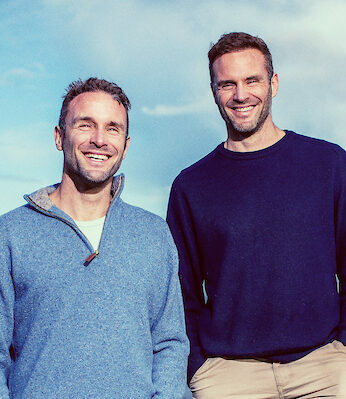 David & Stephen Flynn
Founders of The Happy Pear
Dave & Steve are plant-based chefs with over 40 million views on their recipes on YouTube.

They are bestselling authors with restaurants, shops and a wide range of vegan products on sale across Ireland.
Explore the tools brought by an amazing team of chefs, doctors, nutritionists, yoga and movement coaches.
And all of that together with the supportive community of like-minded people!